News — 10 November 2023
UK Suppliers Explore Next-Generation Green Offers
Granular Energy hosted a workshop with 12 UK energy suppliers to discuss the future of REGOs and green offers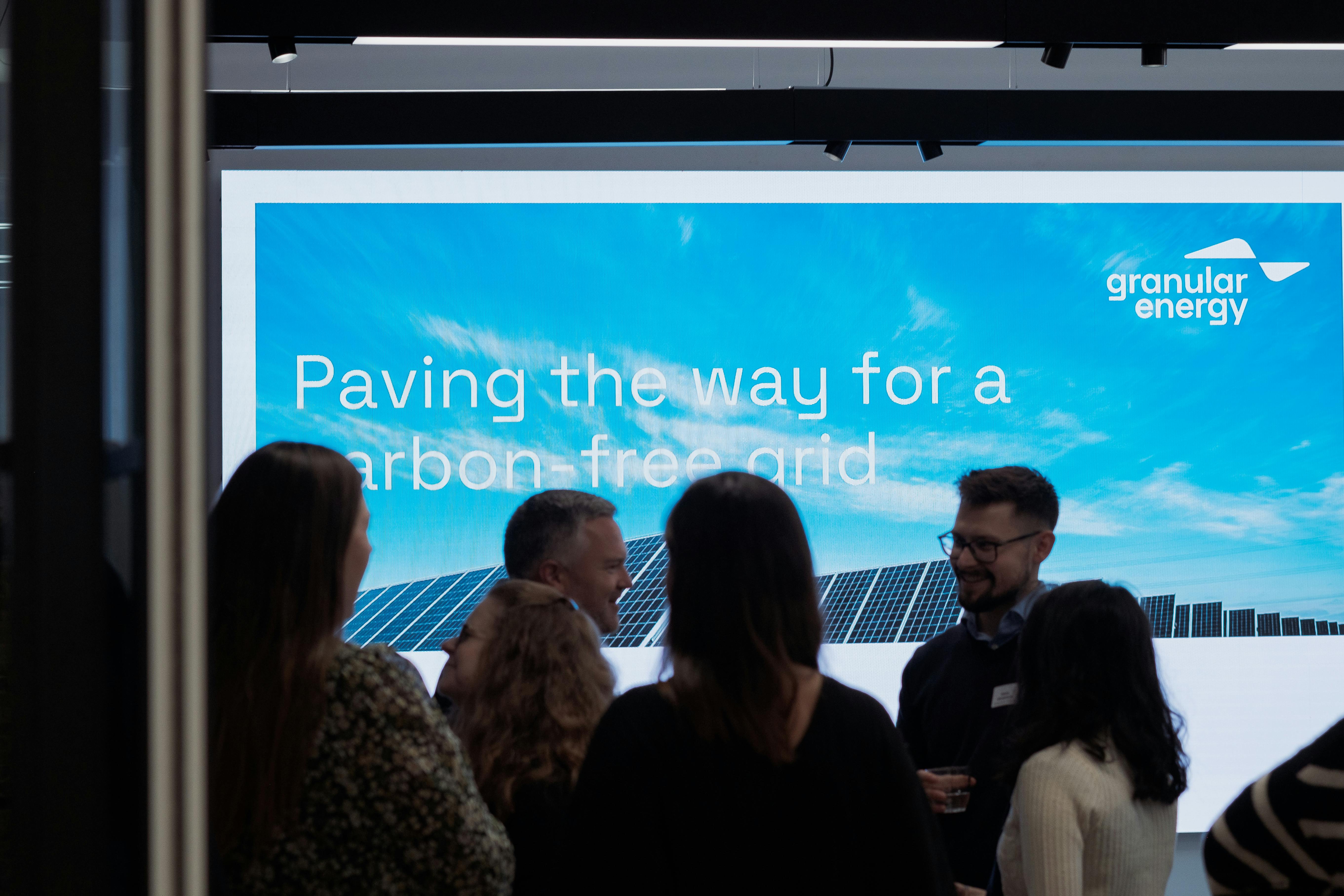 Last week, Granular Energy hosted a workshop for UK energy suppliers on the topic of REGOs and next-generation green offers. The UK has seen a dramatic increase in REGO pricing, creating additional risks and complexity for suppliers, and the UK Government is examining potential changes to the REGO system to improve trust and credibility, which could see further changes that suppliers will need to deal with.
We are in conversations with most UK energy suppliers, and specifically with the teams that manage REGOs and green offerings. We invited a group of energy suppliers to share thoughts and ideas on how to deliver tariffs that enable customer choice and drive additionality.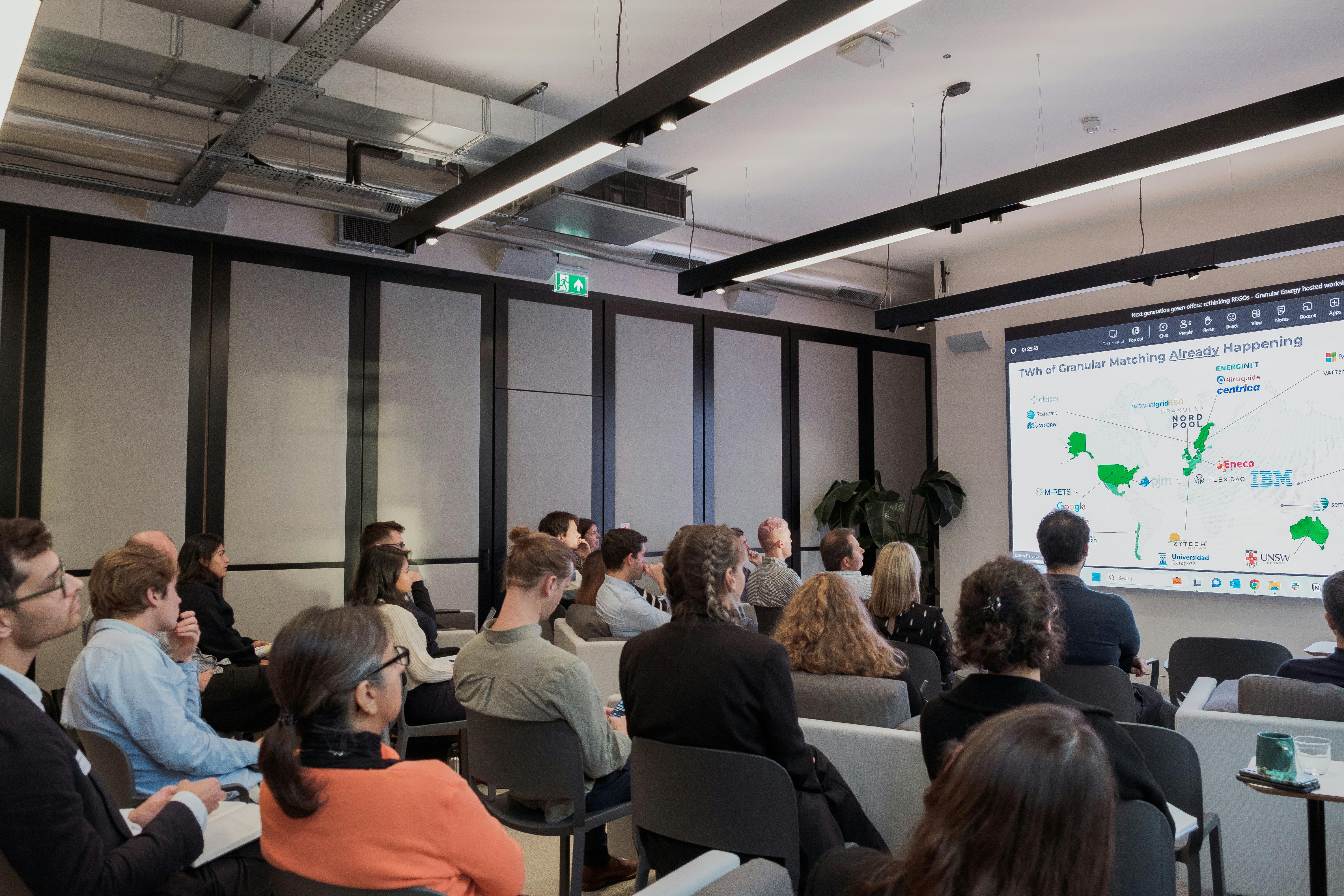 Here are our key takeaways:
Hourly matching is the future of the REGO system. Demand for REGOs is increasing, but suppliers are aware the system needs to evolve. From the group of 12 suppliers in the room, there was strong agreement that hourly-matching, and timestamped certificates, reveal the demand for renewables for every hour and offer a strong incentive to build out the assets needed to reach a clean grid around the clock.
Energy buyers want and expect transparency from their suppliers. While the previous generation of energy buyers were setting targets, today we need to hit those targets. Transparency, demonstrating precisely where they are in their net-zero journey is a must. I&C, corporate, and SME consumers understand greener supply comes at a premium, however, their willingness to pay is limited. There will be some slack in the REGO prices coming back down.
Industry standards are integrating hourly transparency in their guidelines. The GHG Protocol and UK GBC are reviewing guidelines for clean energy procurement, and hourly matching is a key element of their updates. These standards will formalise customer voluntary demand until policy and regulation enforce it further down the line. On the horizon, regulation will enforce it more broadly, with already green hydrogen requiring hourly matching in 2030.
Suppliers have an opportunity to develop premium tariffs. Suppliers have started exploring how to deliver offers with hourly matching to catch the existing and increasing voluntary demand. There is no common structure for what these offers look like so suppliers can build those to echo their portfolio and customer needs. We've seen tariffs that commit to a high percentage of hourly matching, or some that offer REGOs with an hourly shape.
We need to progress the conversation and align further with market players to ensure a robust, trustworthy and valuable system. Some specific areas need further scrutiny:
How to communicate the topic to energy consumers, particularly residential consumers who are price-sensitive
The role and rules for battery storage and how it can help reach top levels of matching
How time-stamped energy certificates can be attached to the power market and traded, making it an accessible commodity
At Granular Energy we actively work on those topics. Our tools enable suppliers to better manage the costs and risks in energy certificate portfolios, and to create new clean supply offers that give customers far greater transparency on where their energy comes from than has existed before.
Contact Granular Energy if you'd like you to join the conversation and our next workshop.